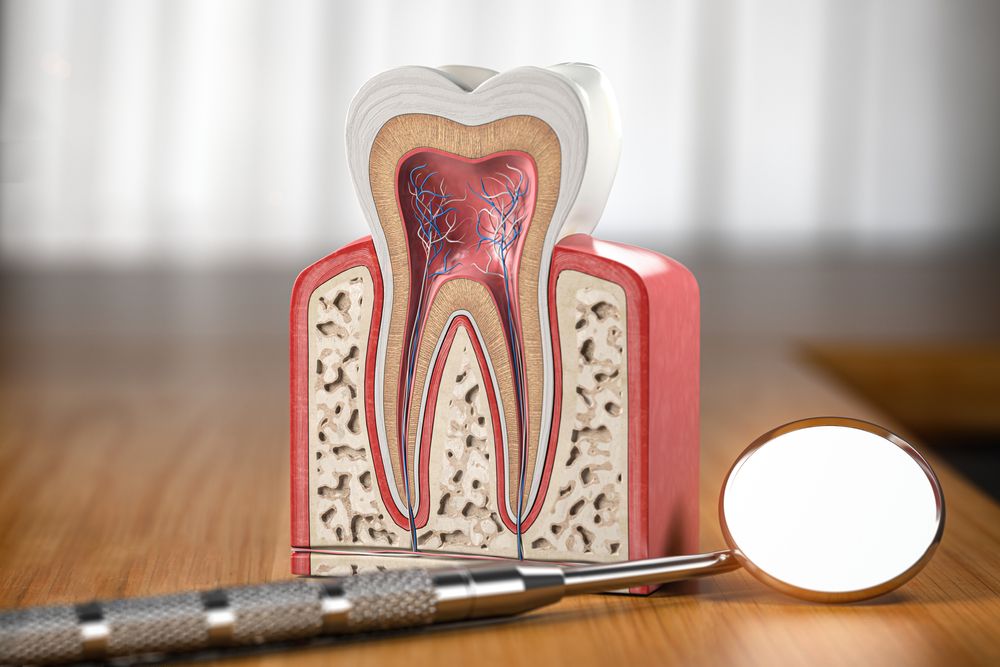 Dr. Dong and his team can provide root canals to our patients with painful, infected teeth. If you have a damaged or decayed tooth, our dentists can perform root canals quickly and effectively for people living in Quincy, Milton, Weymouth, and nearby communities in MA.
How Does Our Root Canal Treatment Work?
When a tooth becomes decayed or fractured, the inner pulp of the tooth can become exposed. Infection can then cause the pulp to die, this is a condition known as necrotic pulp. At this stage, the infection can spread into the surrounding bone, causing pain and swelling. It's also possible for the infection to spread to neighboring oral tissues and teeth. A root canal treatment is a procedure that removes the necrotic pulp, sterilizes the internal area, and then fills the space previously occupied by the pulp. This removes the source of infection and restores the structure of the tooth.
The first stage of a root canal treatment is anesthetizing the tooth to minimize the discomfort experienced during the procedure. A small opening is then created in the tooth to access the nerve. The pulp is then removed in its entirety, and the canal-shaped space inside is cleaned and dried. Dr. Dong may leave medication inside the canal and fill it with a temporary filling to help achieve optimal healing before completing the root canal. This is often done when addressing a large infection that is significantly painful. An inert material will then be used to fill in the canal space to prevent future infection, and the access will be filled with a permanent filling material. Teeth in the rear of the oral cavity will typically need full coverage to protect the tooth from fracturing in the future. X-rays will be taken at each step to ensure the root canal treatment is proceeding correctly and can be completed perfectly.
While root canals can have a bad reputation, there's nothing to fear – our Quincy Dental Specialists Group team performs root canals painlessly by using reliable, trusted techniques. These include:
Pro-Taper Gold Rotary Instruments: The pro-taper gold rotary system provides Dr. Dong with greater flexibility and performance. These rotary files provide better accuracy in shaping each canal, especially for challenging canals (with curvature).

Apex Locators: Apex locators are compact devices that provide accurate readings for canal lengths. Apex locators are radars for instruments used within the root canals, it reads the position of the tools used in relation to the length of the root, allowing us to clean and fill the entire length of the root system.

Warm Vertical Condensation Technique: Dr. Dong works with the warm vertical condensation technique to heat the gutta percha filling inside the tooth to protect the inner canal system and reduce the risk of retreatment.
Dr. Dong and his skilled team will work to keep our patients comfortable throughout the procedure. Once the procedure is complete, Dr. Dong will ensure that the infection is gone by prescribing antibiotics and scheduling follow-up appointments.
Find Relief With Quincy Dental Specialists Group Root Canal Treatment
If you live in Quincy, Milton, Weymouth, and nearby communities in MA. and are currently experiencing severe tooth pain, we invite you to call to schedule an appointment and see if you require a root canal treatment. When visiting Dr. Dong at Quincy Dental Specialists Group, his team can provide a broad range of services, from root canal treatments to complex cosmetic and restorative procedures. We work with a periodontist once every two weeks for implant replacements, wisdom teeth removal, and other surgical procedures.
As the third owner of Quincy Dental Specialist Group, Dr. Dong provides a warm and welcoming environment for families and friends and will be glad to provide you with in-house, conservative dental care. To learn more about our dental treatment options, visit our trusted, experienced dentists to give your family the care you deserve most. Schedule a consultation at Quincy Dental Specialist Group to find out more.